Here I will explain how a wing works. Some basic terms on how airplanes fly are thrust, lift, weight and drag.
Thrust is the forward motion of the body.
Drag is the force of friction that tries to stop a body
Weight is the mass of the body
Lift is the force which lifts the body into the air.
For a plane to fly, drag and weight have to be reduced. A plane reduces weight by using lighter material and it reduces drag by being streamlined i.e. broad at the back and narrow at the front.
It gains thrust from its engines and lift from its wings. Lift is produced when either the air or the object are moving.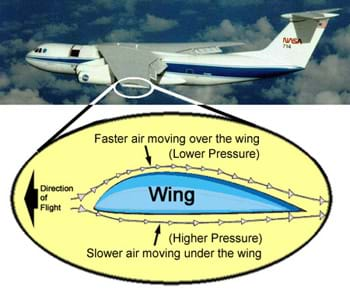 A wing splits air into two directions: over and below it. The air flowing over it travels faster than the air flowing under it. When air moves faster, its pressure drops. you can see this if you pinch the end of a water hose. The space decreases, so the water comes gushing out. So, the higher pressure under the wing lifts the wing up. When you attach two wings to a body and provide the body with some thrust, the body will fly. in fluid dynamic, this phenomenon is called Bernoulli's principal.
==========================================================================